Every year spring brings something that at one time was a huge part of my life — Baseball. Not just the American Major League Baseball, but my own love affair with "playing ball".
Me with the fishing pole (I was a better fisherman than baseball player) and I think my younger brother Steve with the ball and bat. Which was appropriate because he became the athlete in the family and as much as I wanted to be one, really wasn't.
I grew up in Newport, Maine way back in mid '60s and early '70s. It was a typical small town with all of their good and bad things from that era. No, it wasn't always as great as too many old farts would have you think. There were too many things that most of us ignored growing up and as focused on running through the neighbor's backyards, playing games outside, or pretending to go yech to all the neighborhood girls. Although we could usually find enough other kids to throw a baseball around or if someone broke a bat at one of our Little League games, either a pickup game at the ball field, or at least practice our batting and pitching skills, while pretending to be a big leaguer — as long as it was a Red Sox it didn't matter. Even a few games of batting and catching 500.
Yaz and Rico were my favorites, although I always hoped for Tony C. to make a big comeback – he never did.
Me, I was always at a disadvantage, being the youngest one in my grade and the kids I hung around with, needing glasses to see (not getting them until much later), and being the smallest one on the field most of the time. It didn't matter at the time, you just kept playing and pretending you were better than you really were and hoping you'd actually get better at some point.
I never did.
Then there were the annual end of Little League season trips to Fenway to watch the greats play, boo the opposing players and get those stupid little souvenir bats that we would go home and hit rocks with or have fencing duels, until either we broke some fingers, or the adults took them away.
Since I wasn't that good a player, I focused more on what was called the nerdier side of baseball. Collecting cards and playing, dice-based baseball games on my Nana's porch table, and memorizing player stats. Each spring, I'd rush home from school hoping to catch what was left of opening day, while Nana complained that her Soaps weren't on that day. Then watching the Saturday afternoon games with Gramp or listening to the games on the AM radio while reading a book too many nights growing up. I still remember watching Hank Aaron hitting number 715 on my little black and white TV set up in my bedroom, while I fiddled with the rabbit ear antennas to get the picture so I could see it. 
Maybe even a few games of whiffle ball with my cousin Mike as we got older, while pretending to be the '56 Brooklyn Dodgers (me) and him the '67 Red Sox. Yeah, the book "Boys of Summer" made a huge impression on me and I still have that book in my library (one of the few that made it through all the moves and purges).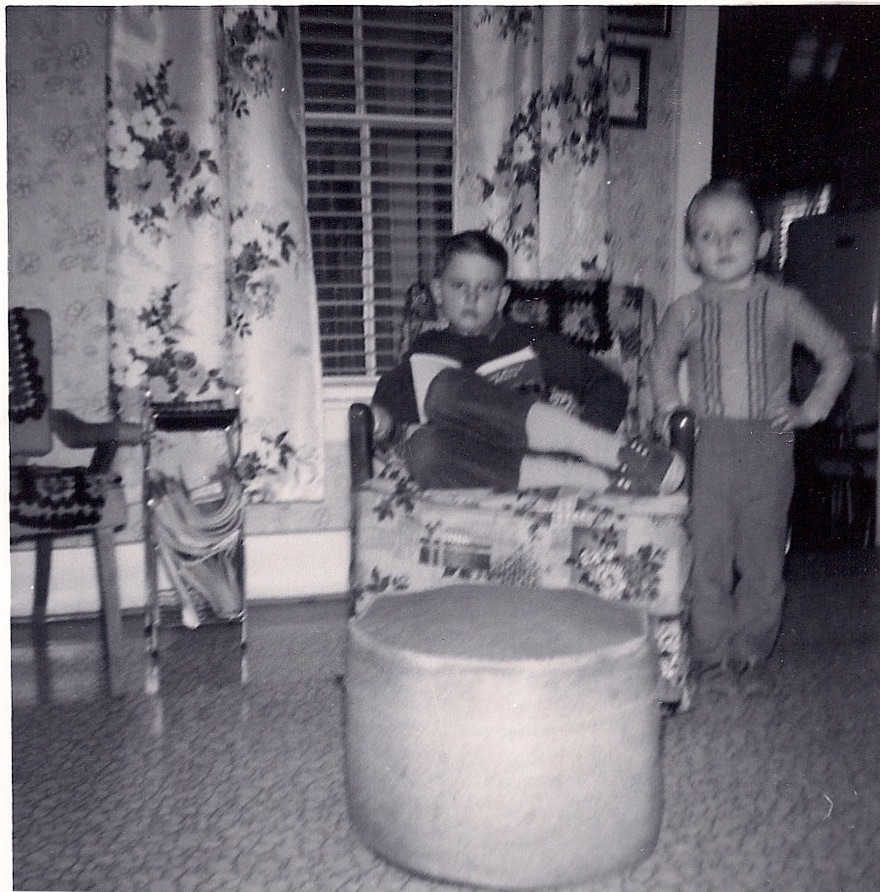 Memories of days gone by, they all jumble together and are so many that they now get out of chronological order sometimes, but the memories are still there.
Nowadays
Some things haven't changed all that much. I never grew into great a baseball player and while I've worn glasses for several years and see the ball a lot better, I still follow MLB a bit too much and instead of attempting to play the game at 65, am enjoying pretend baseball. I've been a member of a Fantasy Baseball league for over a decade now and my passion for it seems to get stronger each year. Even though I'm too flighty to ever do well in the league. 
This year, I did a bit more research than usual – even read a few books on advanced stats and paid for Yahoo's pro version to help me do a little better than I usually do. I also joined three other Yahoo leagues, just to make me cut back on the amount of time that I spend on my Blogball team. Last year's 123 transactions was too much (more than double anyone else in the league), and my flightiness was in full flight.
Below are my fantasy baseball teams for 2023 and yes, I've been a Maineiac for several years.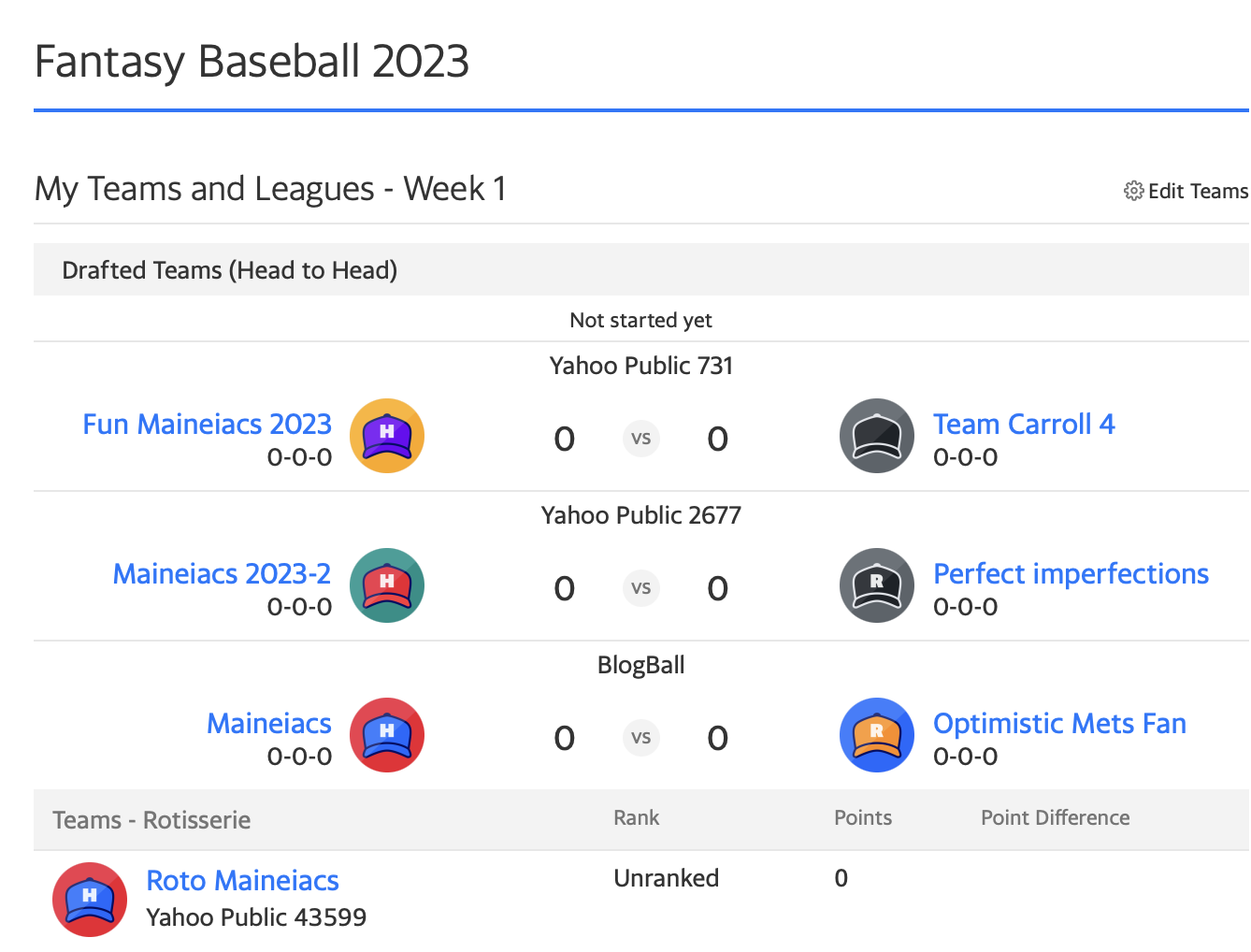 You can see that I did a little more homework than usual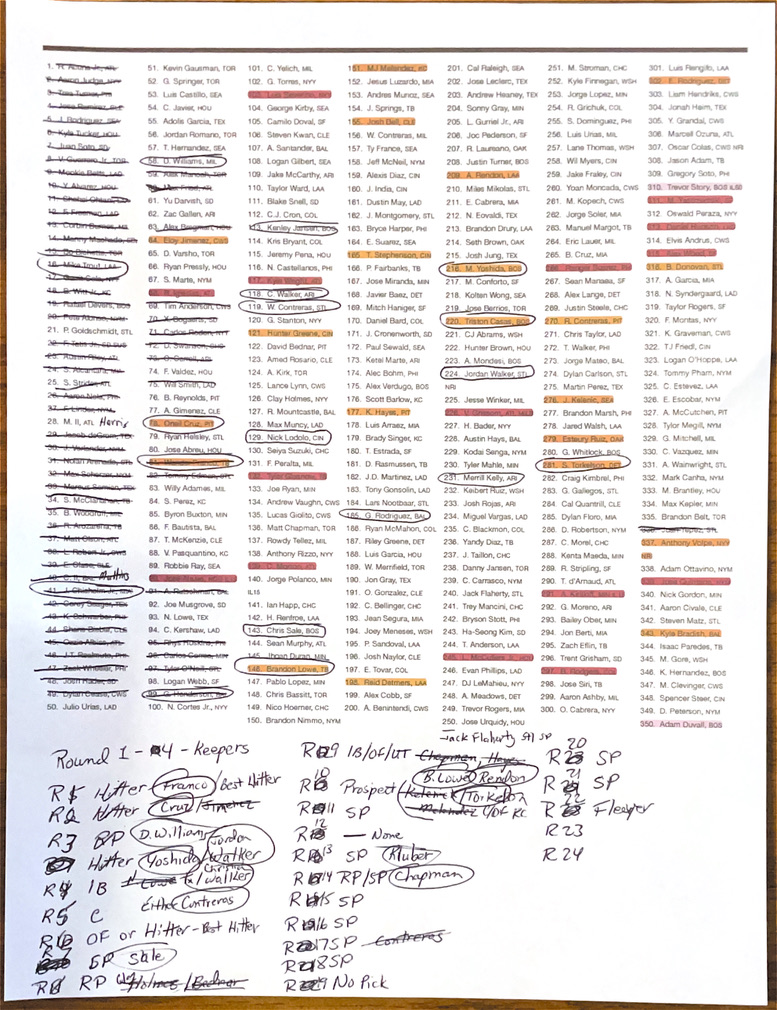 My Blogball roster looks a bit better than the one I ended the year with and I stayed close to what I wanted with my drafts picks. It was more a high risk, high reward kind of draft. Hopefully, I will come away with a few keepers for next year that are more established than the four I had this year (Trout, Chisholm, Carroll, G.Henderson).
Here are the players that are part of my BlogBall 23 team.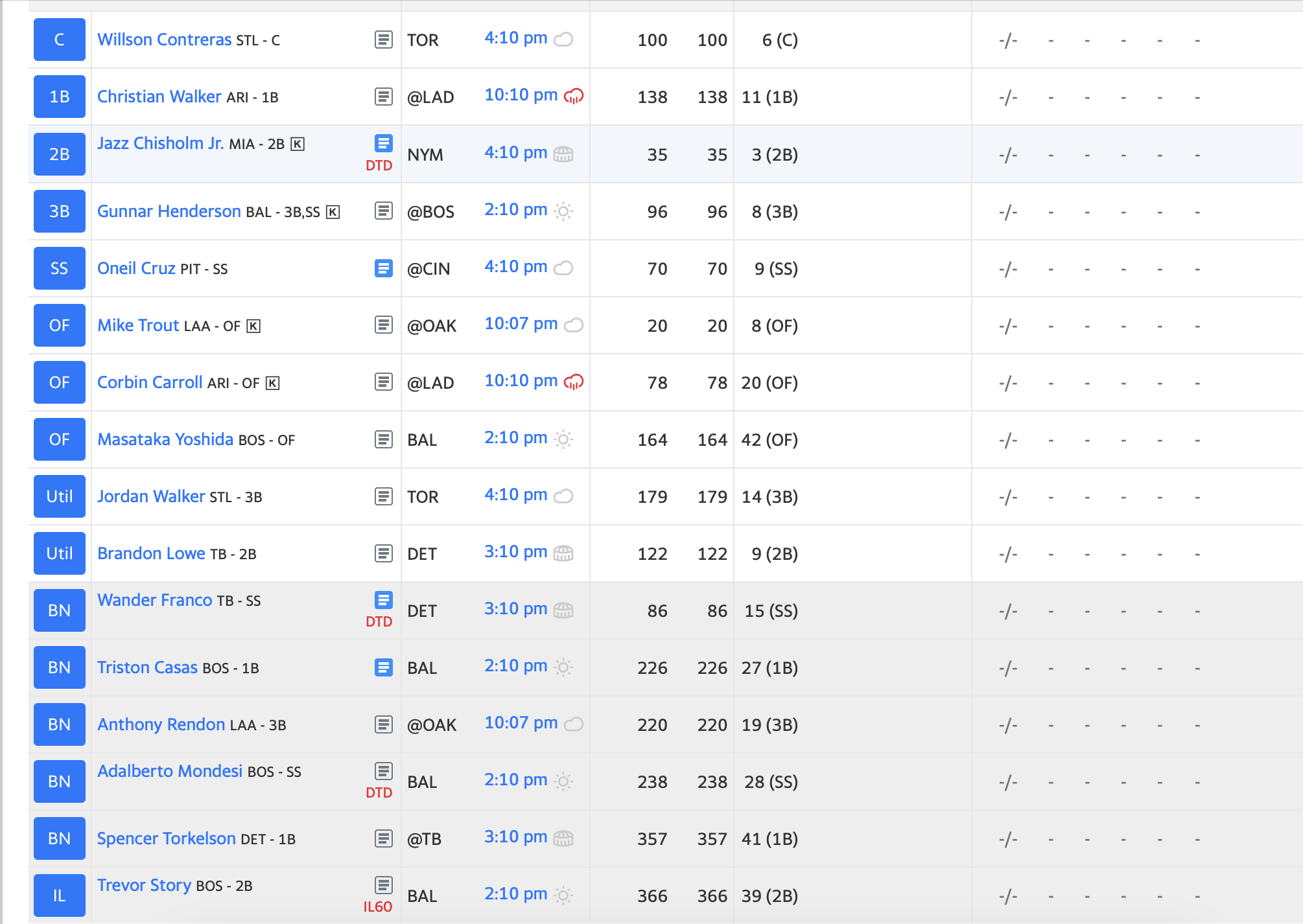 Yeah, I purposely drafted a couple of injured players as draft and stash, but I'm pretty happy with the results considering where I started from. I know — I'm still that little Red Sox fan from all those years ago and too often will pick a Sox player if most things are close.
The reality is that
Baseball, for me is one of the right things of spring, not just a right of spring. All the teams, players, and fans are optimistic and hopeful that the changes they have been made to their rosters will help them improve and hopefully compete for the pennant. Of course, not all will, but today, the day before MLB Baseball begins, hope springs eternal for all the players and us fans.
Even those of us who were not that good at baseball in real life and have to live the game vicariously through this fantasy version of baseball.
So to my Red Sox do better than the pundits expect, and maybe I'll do a little cheering on the side for the Diamondbacks, while I will always boo and hiss at those damned Yankees. Although as I get older, I respect the players so much more, even if I don't like the team they play for. 🙂
Here is to a great MLB season.